David Shinn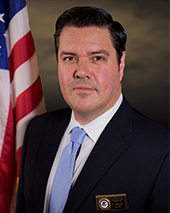 David Shinn is the Assistant Director of the Program Review Division. David Shinn began his career with the Bureau of Prisons in 1991, as a Legal Technician at MCC San Diego (CA). He served in positions of increasing responsibility including Correctional Officer at FCI Fairton (NJ); Senior Officer and Assistant Inmate Systems Manager at FCI Fort Dix (NJ); Inmate Systems Manager at FCI Terminal Island (CA); ACA Accreditation Manager in the External Auditing Branch and Liaison to the Bureau's Executive Staff in the Planning and Analysis Branch, Program Review Division (WDC). Mr. Shinn also served as Associate Warden at USP Atwater (CA) and MDC Los Angeles (CA), and later as Warden at FDC Honolulu (HI) and MDC Los Angeles (CA) before being selected as Complex Warden at FCC Victorville (CA). Mr. Shinn assumed his current position as Assistant Director for the Program Review Division on August 19, 2018.
As Assistant Director, Mr. Shinn oversees a wide variety of areas, including guiding managers in the assessment of operations, assisting management in the strategic planning process, coordinating and monitoring oversight activities of auditors, and ensuring effective management and operational procedures exist throughout the Bureau of Prisons. He also serves as the Affirmative Employment Programs Director and the Equal Employment Opportunity Director for the agency.
Before joining the Bureau of Prisons, Mr. Shinn served in the United States Marine Corps. He studied Criminal Justice at Palomar College. Mr. Shinn has been a member of the Senior Executive Service since 2014.