Steve Mora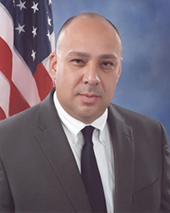 Steve Mora is the Assistant Director of the Program Review Division. Steve Mora began his career with the Federal Bureau of Prisons as a Sports Specialist at FCI La Tuna (TX), in 1993. He served in positions of increasing responsibility including Teacher at FCI Phoenix (AZ), Assistant Supervisor of Education and Supervisor of Education at FCI Oxford (WI), Regional Education Administrator at the South Central Regional Office, Associate Warden at FCI El Reno (OK), and USP-1 Coleman (FL). Mr. Mora was named Warden at FPC Bryan (TX), in 2010.
In November 2012, Mr. Mora was appointed Warden at FCI Estill (SC), and in August 2013, he was appointed Warden of MDC Guaynabo (PR). He became a member of the Senior Executive Service in February 2013. Mr. Mora assumed the position as Assistant Director, Program Review Division, on October 4, 2015. He also serves as the Affirmative Employment Programs Director and Equal Employment Opportunity Director for the agency.
Mr. Mora received a Bachelor of Science degree in Secondary Science Education from New Mexico State University in Las Cruces, New Mexico, in 1993. He completed the Dale Carnegie Course, the National Institute of Corrections Correctional Excellence, and the Bureau of Prisons Leadership Forum.