Kathleen Toomey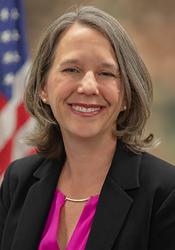 Kathleen (Kathy) Toomey is the Associate Deputy Director of the Federal Bureau of Prisons. Ms. Toomey has spent much of her career in the Department of Justice. Between 2001 and 2014 she was a trial attorney and later the Deputy Director, Professional Development, in the Civil Rights Division. Serving in positions of increasing responsibility, she was the Chief of Staff to the Assistant Attorney General for the Civil Rights Division from 2014 to 2016 and then the Director of Operational Management from 2016 to 2021.
Ms. Toomey has served in several senior roles within the Department of Justice, including 15 months in the Office of the Deputy Attorney General. During this time as Senior Counsel and then as Acting Chief of Staff, she worked closely with Bureau leadership on issues including staffing, budget, and the implementation of the First Step Act. Immediately prior to joining the Bureau as the first Associate Deputy Director, she was the Department's Executive Secretary. A key advisor to Department leadership on internal coordination, as well as a liaison with senior officials across the Executive Branch, she worked to improve existing processes while also leading a comprehensive review of the Department's approach to policy coordination, review and correspondence management.
As Associate Deputy Director, Ms. Toomey will oversee four of the Bureau's divisions: Administration, Human Resource Management, Information Technology and Data, and Program Review. Her extensive background in operational management, particularly analyzing and solving for complex organizational challenges will serve the Bureau well. She is skilled at aligning operational, policy, and programmatic interests to support strategic priorities, including working collaboratively with leadership and employees to make informed, thoughtful, and pragmatic change that strengthen organizational performance. Ms. Toomey will begin her new role in June.