Dan Joslin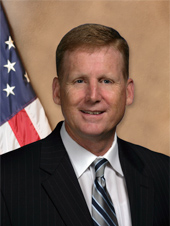 Daniel (Dan) Joslin is the Assistant Director of the Human Resource Management Division. Mr. Joslin joined the Bureau in 1988 as a Correctional Officer at the Metropolitan Correctional Center (MCC) San Diego (CA). Later he moved into the Human Resources area as a specialist, until transferring to the Federal Correctional Institution (FCI) Terminal Island (CA) in 1990 as the Assistant Human Resource Manager. He continued to achieve positions of increasing responsibility, serving as Human Resource Manager for the training centers (1991–94) in Aurora (CO), Chief of Pay and Position Management (1994-96), and Deputy Personnel Director (1996–99) in the Central Office, before transferring to FCI Manchester (KY) as Associate Warden in 1999.
In 2002, Mr. Joslin was promoted to South Central Deputy Regional Director. He was selected as Warden at FCI Seagoville (TX) in 2004, serving in that capacity until being named Warden of FCI Three Rivers (TX) in 2006. In August 2010, he became Senior Deputy Assistant Director for the Human Resource Management Division in the Central Office, before being selected to and assuming his current position on July 1, 2012.
Mr. Joslin received both Bachelor of Science (1985) and Masters of Science (1987) degrees from Eastern Kentucky University (KY). He entered the ranks of the Senior Executive Service in 2007.