J.A. Keller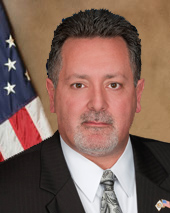 J.A. Keller is the Regional Director of the Southeast Region. He began his Bureau career in May 1990 as a correctional officer at FCI Big Spring (TX). In May 1994, he was promoted to the position of Lieutenant at the Administrative Maximum facility at the Federal Correctional Complex (FCC) in Florence (CO), where he was part of the activation team. In August 1996, Mr. Keller transferred to FCC Beaumont (TX) as a Lieutenant, where he again assisted with the activation. He was selected as Captain for FCI Cumberland (MD) in August 1999, and then became Captain at USP Florence (CO) in March 2001. Mr. Keller was promoted to Correctional Services Administrator for the North Central Regional Office in Kansas City (KS) in September 2002.
Subsequently, in June 2004, he was selected as Associate Warden for the Medical Center for Federal Prisoners in Springfield (MO), where he served until July 2006, then transferred in the same capacity to USP Marion (IL). In May 2008, Mr. Keller was promoted to Warden for FPC Montgomery (AL), serving in that capacity until being selected as Warden for USP Atlanta (GA) in August 2010. In June 2012, he was selected as Regional Director for the South Central Region, a position he held until he assumed his current position as Regional Director for the Southeast Region on January 8, 2017.
Mr. Keller studied Criminal Justice at Howard Jr. College in Texas. He joined the ranks of the Senior Executive Service in June 2010.