Michael Smith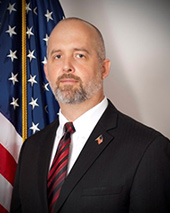 Michael Smith is the Assistant Director of the Health Services Division. Mr. Smith began his Bureau of Prisons career in 1997, as a Correctional Officer at FCI Englewood (CO). He served in positions of increasing responsibility, including Inmate Systems Officer and Health Services Administrator Trainee at FCI Englewood, Assistant Health Services Administrator at two FCC Florence (CO) facilities, and a Health Services Evaluation Specialist for the Program Review Division in Central Office (DC). Mr. Smith also served as Associate Warden at FMC Rochester (MN), temporarily serving as Acting Warden in 2015, and at FCC Butner (NC). In 2017, he was promoted to Warden at MCFP Springfield (MO). He will assume the position of Assistant Director of the Health Services Division on September 27, 2020.
As Assistant Director, Mr. Smith directs three national program areas: Medical, Environmental and Safety Compliance/Occupational Health and Food Service. Within these three areas, he oversees dental care, psychiatric care, healthcare staffing and recruitment, healthcare delivery, infectious disease management, medical designations, occupational safety, environmental compliance, fire protection, occupational health, worker's compensation, and the provision of nutritional and specialty meals.
Before joining the Bureau of Prisons, Mr. Smith served in the Colorado National Guard for two years and in the United States Army for six years; he also attended Pikes Peak Community College. Mr. Smith has been a member of the Senior Executive Service since 2018.