James Petrucci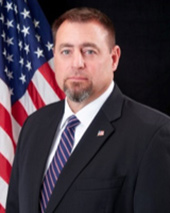 James Petrucci is the Regional Director of the Mid-Atlantic Region. Mr. Petrucci began his career with the Bureau of Prisons in 1994, as a Correctional Officer at FCI Schuylkill (PA). He served in positions of increasing responsibility, including Correctional Treatment Specialist, Unit Manager and Case Manager Coordinator at FCI Schuylkill, and Witness Security Coordinator for the Correctional Programs Division in Central Office (DC). Mr. Petrucci also served as Associate Warden at MDC Brooklyn (NY), Deputy Regional Director for the Northeast Region in Philadelphia (PA), and later as Warden at FCI Otisville (NY). Mr. Petrucci assumed his current position as Regional Director for the Mid-Atlantic Region on August 2, 2020.
As Regional Director, Mr. Petrucci oversees the operations of 21 Bureau of Prisons facilities, including two medical centers, three correctional complexes, and four high security penitentiaries. He is also responsible for the oversight and management of more than 6,400 employees, and the custody and care of approximately 25,000 offenders.
Prior to joining the Bureau of Prisons, Mr. Petrucci served in the United States Army. He received his Bachelor of Science degree in Criminal Justice from Penn State Harrisburg, also called "The Capital College." Mr. Petrucci has been a member of the Senior Executive Service since 2019.