Sonya D. Thompson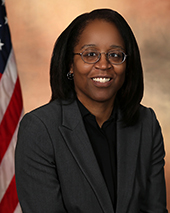 Sonya Thompson is the Assistant Director of the Reentry Services Division. Ms. Thompson began her career with the Bureau of Prisons in 1992, as an Honors Attorney with the Office of General Counsel (OGC). She served in positions of increasing responsibility including Attorney Advisor and Assistant General Counsel with OGC, Senior Congressional Affairs Specialist in the Office of Congressional Affairs (IPPA), and Chief of the IT Planning and Development Branch (IPPA). In 2005, Ms. Thompson was appointed Deputy Assistant Director for IPPA, then later Senior Deputy Assistant Director; and for the past two years, has served as the Acting Assistant Director for the Division. In December of 2019, Ms. Thompson was appointed as Assistant Director of the IPPA Division, a position she held until assuming her current position as Assistant Director of the Reentry Services Division on March 1, 2021.
As Assistant Director, Sonya Thompson oversees a wide variety of areas, including National Reentry Affairs, Chaplaincy Services, Women and Special Populations, Psychology Services, and Residential Reentry Management. Additionally, she oversees the education, vocational and recreation training programs for federal inmates nationwide. Ms. Thompson is responsible for coordinating efforts with other disciplines, agencies, and organizations to facilitate the successful reintegration of inmates back to their communities upon release.
Ms. Thompson received her Bachelor of Science degree in Electrical Engineering and her Juris Doctor degree from Washington University in St. Louis, Missouri. She has been a member of the Senior Executive Service since 2012.