Hugh J. Hurwitz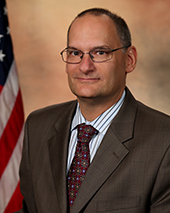 Hugh J. Hurwitz is the Assistant Director of the Reentry Services Division. Mr. Hurwitz began his career with the Bureau of Prisons as a law clerk in the Office of General Counsel in 1988. He became a full time employee in 1991 when he was selected as a DOJ honors attorney after serving a one-year clerkship at the District of Columbia Court of Appeals. He left the Bureau for private law practice, returning in 1997, as the Assistant Chief for Construction Contracting in the Administration Division. Subsequently, he was selected for positions of increasing responsibility, including Chief of National Contracts and Policy, Chief of the Acquisitions Branch and Procurement Executive for the Bureau of Prisons. In 2003, Mr. Hurwitz was selected as the Chief of Acquisitions and Grants Services at the Food and Drug Administration (FDA), later becoming the FDA's Chief of Information Technology Shared Services. In 2007, he was appointed Senior Procurement Executive for the U.S. Department of Education (ED) before being promoted to Deputy Chief Financial Officer for the ED. Mr. Hurwitz joined NASA's Office of Inspector General in 2012 as the Assistant Inspector General for Management. In 2015, he returned to the Bureau of Prisons as the Senior Deputy Assistant Director of the Information, Policy and Public Affairs Division. On December 18, 2017, Director Inch announced he had selected Mr. Hurwitz as Assistant Director for the Reentry Services Division.
As Assistant Director, Mr. Hurwitz oversees a wide variety of areas, including National Reentry Affairs, Chaplaincy Services, Women and Special Populations, Psychology Services, and Residential Reentry Management. Additionally, he oversees the education, vocational and recreation training programs for Federal inmates nationwide. Mr. Hurwitz is responsible for coordinating efforts with other disciplines, agencies, and organizations to facilitate the successful reintegration of inmates back to their communities upon release.
In 1987, Mr. Hurwitz received his Bachelor of Arts degree in Political Science from the University of Rochester. In 1990, he received his Juris Doctor degree from American University, Washington College of Law. Mr. Hurwitz has been a member of the Senior Executive Service since 2003.