Linda Geter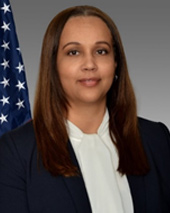 Linda Geter is the Assistant Director of the Correctional Programs Division. Ms. Geter began her career with the Bureau of Prisons in 1999, as a Correctional Officer at the Low Security Correctional Institution at FCC Butner (NC). She served in positions of increasing responsibility at FCC Butner and FCI Williamsburg (SC). In February 2014, Ms. Geter was named Associate Warden at the FDC Honolulu (HI). She served as Warden at FCI Texarkana (TX) from February 2018 to January 2020 and as Warden at FCI Jesup (GA) from January 2020 to March 2021. Ms. Geter was named Senior Deputy Assistant Director, Designation and Sentence Computation Center, Correctional Programs Division, in March 2021. She was selected for her current position as Assistant Director for the Correctional Programs Division in September 2022 and assumed the role on January 1, 2023.
As Assistant Director, Ms. Geter will be responsible for a wide variety of areas, including designations and sentence computation, the Witness Security and Victim-Witness Programs, security and emergency planning, inmate transportation, and unit and case management operations. She also directs the agency's intelligence efforts through coordination with law enforcement agencies around the country.
Ms. Geter received her Bachelor of Science Degree in Criminal Justice from the University of Mount Olive in North Carolina. She has been a member of the Senior Executive Service since 2020.