Angela Dunbar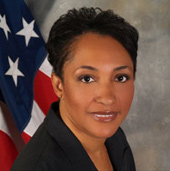 Angela Dunbar is the Assistant Director of the Correctional Programs Division. Assistant Director Angela Dunbar began her career with the Bureau in 1992 as a Correctional Officer Trainee at FCI Marianna (FL). During her 23 years in the Bureau, Ms. Dunbar went on to serve in positions of increasing responsibility at FCI Fort Dix (NJ), North Central Regional Office (KS), and FCI Greenville (IL). Ms. Dunbar served as Associate Warden at FCI Manchester (KY) and at USP Canaan (PA). In 2012, she promoted to Warden at FCI Butner II (NC), and was subsequently selected as New Warden of the Year.
In 2013, Ms. Dunbar was selected as the Senior Deputy Assistant Director of the Correctional Programs Division, and joined the ranks of the Senior Executive Service the following year. She assumed her position of Assistant Director, Correctional Programs Division on August 2, 2015.
Assistant Director Dunbar is a native of Grove Hill, Alabama, and completed her graduate and undergraduate studies in Criminal Justice at Troy State University, Troy, Alabama.