Frank Lara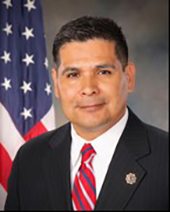 Frank Lara is the Assistant Director of the Correctional Programs Division. Mr. Lara began his Bureau of Prisons career in 1992 as a Correctional Officer at FCI Seagoville (TX). Subsequently, he was selected for positions of increasing responsibility, including Lieutenant at FCC Beaumont and FCI Three Rivers (TX) and Captain at FCI La Tuna (TX) and USP Canaan (PA). Mr. Lara served as Associate Warden at FCC Allenwood (PA) and FCI Otisville (NY). In 2011, Mr. Lara was selected as the Correctional Services Administrator in the Correctional Programs Division. In 2014, he was promoted to Warden at FCC Beaumont's Medium Security Institution (TX), and in 2015, Mr. Lara was selected as Complex Warden at FCC Beaumont (TX). Mr. Lara assumed his current position on June 25, 2017.
As Assistant Director, Mr. Lara oversees a wide variety of areas, including designations and sentence computations, the Witness Security and Victim Witness Programs, security and emergency planning, inmate transport, unit and case management operations, and oversight of 11 private correctional facilities under contract with the Bureau. He also directs the initiatives of the intelligence systems responsible for intelligence gathering to overcome the security threats from terrorism.
Before joining the Bureau of Prisons, Mr. Lara served four years in the United States Marine Corps. He studied Criminal Justice at Eastfield Community College and Lamar University (TX). In 2012, Mr. Lara received the Correctional Programs Division Assistant Director's Award, and in 2014, he was named New Warden of the Year. In 2015, he received the Director's Special Recognition Award. Mr. Lara has been a member of the Senior Executive Service since 2016.