Andre Matevousian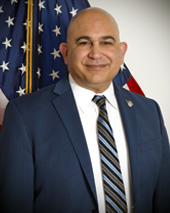 Andre Matevousian is the Assistant Director of Correctional Programs Division. Mr. Matevousian began his career with the Bureau of Prisons in 1993, as a Correctional Officer at USP Lompoc (CA). He served in positions of increasing responsibility, including Lieutenant at FCI Three Rivers (TX); Captain at FCI Schuylkill (PA) and FDC Philadelphia (PA); Complex Captain at FCC Lompoc (CA), and Regional Correctional Services Administrator for the Western Region (CA). Mr. Matevousian also served as Associate Warden at FCC Victorville (CA), Warden at FCI Dublin (CA) and USP Atwater (CA), and Complex Warden at FCC Florence (CO). In September 2019, he was selected as the Senior Deputy Assistant Director for the Correctional Programs Division, a position he held until he assumed his current position as Assistant Director for the Correctional Programs Division on June 8, 2020, after briefly serving as Acting Assistant Director.
As Assistant Director, Mr. Matevousian is responsible for a wide variety of areas, including designations and sentence computation, the Witness Security and Victim-Witness Programs, security and emergency planning, inmate transportation, unit and case management operations, and oversight of 12 private correctional facilities under contract with the Bureau. He also directs the agency's intelligence efforts that require coordination with law enforcement agencies around the country.
Before joining the Bureau of Prisons, Mr. Matevousian served in the United States Army. He has been a member of the Senior Executive Service since 2015.