Melissa Rios-Marques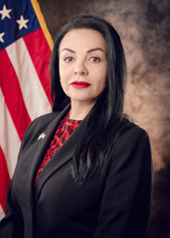 Melissa Rios-Marques is the Regional Director for the Western Region. Ms. Rios-Marques began her career with the Bureau of Prisons in 1995, as a Senior Officer Specialist at FCI Three Rivers (TX). She served in positions of increasing responsibility including Lieutenant at FCC Allenwood (PA) and USP Lewisburg (PA), Deputy Captain at FCC Oakdale (LA), and Senior Intelligence Designator at Grand Prairie (TX). Ms. Rios-Marques also served as Associate Warden at MCC New York (NY) and FCC Florence (CO), and Warden at FPC Duluth (MN) and FCI Three Rivers. She assumed her position as Regional Director for the Western Region on August 30, 2020.
As Regional Director, Ms. Rios-Marques oversees the operations of 19 facilities, including four detention centers, three high security penitentiaries, and three correctional complexes. She is responsible for the oversight and management of more than 4,600 employees, and the custody and care of approximately 20,300 inmates.
Prior to joining the Bureau, Ms. Rios-Marques served in the United States Army Reserves and worked for the Texas Department of Criminal Justice. She has been a member of the Senior Executive Service since 2019.