Gene Beasley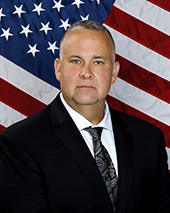 Gene Beasley is the Regional Director of the Western Region. Mr. Beasley began his career with the Bureau of Prisons in 1997 as a Correctional Officer at USP Marion (IL). He served in positions of increasing responsibility, including Personnel Assistant, Human Resource Specialist and Lead Human Resource Specialist at USP Marion; Human Resource Manager at USP Marion and FMC Lexington (KY); Executive Assistant at FCI McDowell (WV) as part of the activation team, and Regional Human Resource Administrator for the Southeast Region. Mr. Beasley also served as Associate Warden at FCC Pollock (LA) and FMC Carswell (TX); Deputy Regional Director for the South Central Region, and Complex Warden at FCC Forrest City (AR) and FCC Allenwood (PA). He assumed his current position as Regional Director for the Western Region on June 9, 2019.
As Regional Director, Mr. Beasley oversees the operations of 19 Bureau of Prisons facilities, including three detention centers and three high security penitentiaries. He is also responsible for the oversight and management of more than 4,500 employees, and the custody and care of approximately 21,000 inmates. Additionally, a government-owned but privately-operated correctional institution is under his purview.
Mr. Beasley received his Bachelor of Science degree in Administration of Justice from Southern Illinois University Carbondale. He has been a member of the Senior Executive Service since 2017.