Barb von Blanckensee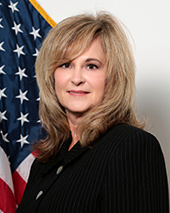 Barb von Blanckensee is the Regional Director of the North Central Region. Ms. von Blanckensee began her Bureau of Prisons career in 1987, as a Case Manager at FPC Boron (CA). She went to work for the U.S. Parole Commission as a Case Analyst in 1989 and returned to the Bureau in 1991 as a Unit Manager at FCI Pleasanton (CA). She continued to serve the agency in positions of increasing responsibility including Regional Transitional Services Manager for the South Central Region (TX) and Executive Assistant at FPC El Paso (TX) (now FSL La Tuna). Ms. von Blanckensee also served as Associate Warden at FCI Bastrop (TX), FPC Bryan (TX), and FCI Seagoville (TX) and as Warden at FCI Morgantown (WV), and FCI Otisville (NY). In October 2018, she was selected as Complex Warden for FCC Tucson (AZ). She will assume the position of Regional Director of the North Central Region on October 25, 2020.
As Regional Director, Ms. von Blanckensee will oversee the operations of 20 facilities, including three with unique missions: MCFP Springfield, ADX Florence and USP Thomson. She will be responsible for the oversight and management of more than 5,700 employees, and the custody and care of approximately 18,700 inmates.
Ms. von Blanckensee received a Bachelor of Science degree in Criminal Justice in 1987 and a Master of Arts degree in Correctional Public Administration in 1988, both from Kent State University (OH). She has been a member of the Senior Executive Service since 2017.