Andre Matevousian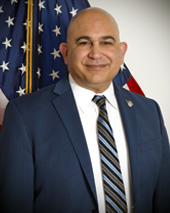 Andre Matevousian is the Regional Director of the North Central Region. Mr. Matevousian began his career with the Bureau of Prisons in 1993, as a Correctional Officer at USP Lompoc (CA). He served in positions of increasing responsibility, including Lieutenant at FCI Three Rivers (TX); Captain at FCI Schuylkill (PA) and FDC Philadelphia (PA); Complex Captain at FCC Lompoc (CA), and Regional Correctional Services Administrator for the Western Region (CA). Mr. Matevousian also served as Associate Warden at FCC Victorville (CA), Warden at FCI Dublin (CA) and USP Atwater (CA), and Complex Warden at FCC Florence (CO). In September 2019, he was selected as the Senior Deputy Assistant Director for the Correctional Programs Division and in June 2020, after briefly serving as Acting Assistant Director, he was selected for the Assistant Director position. Mr. Matevousian assumed his current role as Regional Director of the North Central Region on January 2, 2022.
As Regional Director, Mr. Matevousian will oversee the operations of 20 facilities, including three with unique missions: MCFP Springfield, ADX Florence and USP Thomson. He will be responsible for the oversight and management of more than 5,700 employees, and the custody and care of approximately 19,000 inmates.
Before joining the Bureau of Prisons, Mr. Matevousian served in the United States Army. He has been a member of the Senior Executive Service since 2015.