Jeffrey E. Krueger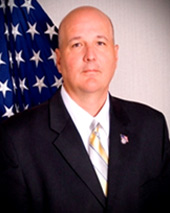 Jeffrey E. Krueger is the Regional Director of the North Central Region. Mr. Krueger began his career with the Bureau of Prisons in 1989, as a Correctional Officer at USP Terre Haute (IN). He served in positions of increasing responsibility, including Lead Foreman (UNICOR) at FMC Lexington (KY), Computer Services Manager at FDC Oakdale (LA) and FCI Pekin (IL), Management Analyst for the Program Review Division in Central Office, and Regional Computer Services Administrator for the North Central Region (MO). Mr. Krueger also served as Associate Warden at FCI Milan (MI), USP Marion (IL) and USMCFP Springfield (MO), and Warden at FPC Duluth (MN), FCI Schuylkill (PA) and FCI Pekin (IL). In March 2017, he was selected as Complex Warden for FCC Terre Haute (IN). Mr. Krueger assumed his current position as Regional Director for the North Central Region on October 28, 2018.
As Regional Director, Mr. Krueger oversees the operations of 20 Bureau of Prisons facilities, including three with unique missions: USMCFP Springfield, ADX Florence and AUSP Thomson. He is also responsible for the oversight and management of more than 5,500 employees, and the custody and care of approximately 19,750 inmates.
Mr. Krueger received his Bachelor of Science degree in Business Administration from Indiana State University. He has been a member of the Senior Executive Service since 2014.