Kathleen Hawk Sawyer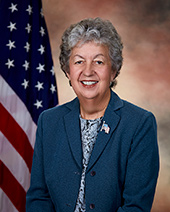 Kathleen Hawk Sawyer, Ph.D., is the Director of the Federal Bureau of Prisons. Dr. Hawk Sawyer joined the Bureau in 1976 as a Psychologist at FCI Morgantown (WV). She served in positions of increasing responsibility, including Chief of Psychology Services at FCI Morgantown, Senior Instructor at the Bureau's Staff Training Academy (STA) in Glynco (GA), Associate Warden at FCI Fort Worth (TX), Chief of Staff Training at STA, Warden at FCI Butner (NC), and Assistant Director for the Program Review Division. In 1992, the Attorney General appointed Dr. Hawk Sawyer as the sixth Director of the agency, a position she held until her retirement in 2003. On August 19, 2019, the Attorney General re-appointed Dr. Hawk Sawyer as the Bureau's 10th Director.
As Director, Dr. Hawk Sawyer oversees the operation of 122 Bureau of Prisons facilities, six regional offices, two staff training centers, 12 contract facilities, and 22 residential reentry management offices with oversight and management of approximately 36,000 staff and approximately 177,000 inmates.
In 1972, Dr. Hawk Sawyer received her Bachelor of Arts degree in Psychology from Wheeling Jesuit College in West Virginia, and her Master of Arts degree and Doctor of Education degree in Counseling and Rehabilitation from West Virginia University in 1973 and 1978, respectively. She received numerous awards for her service and leadership, including the Attorney General's Award for Excellence in Management, two Meritorious Presidential Rank Awards, the Surgeon General's Medallion, and the Presidential Distinguished Executive Award. She is a member of the American Correctional Association.