Lisa Ward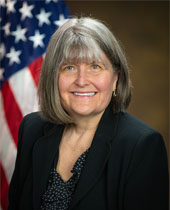 Lisa Ward is the Assistant Director of the Administration Division. Ms. Ward began her career with the Department of Justice (DOJ) in 1988, and served in positions of increasing responsibility including as the Assistant Director for Real Property Management Services for Facilities and Administrative Services Staff (FASS). She was the Assistant Director for Real Property for the Office of Administrative Services in the Department of Homeland Security; Program Examiner for the Transportation/General Services Administration (GSA) Branch in the Office of Management and Budget; and Assistant Commissioner for Budget and Financial Management with the GSA. She returned to DOJ as a Senior Analyst with the Justice Management Division Budget Staff before being selected as the Deputy Director for FASS. In her most recent position as Assistant Director of the Office of Administration in DOJ's Executive Office for Immigration Review, Ms. Ward managed the agency's physical space expansion; the centralized management of projects; and oversaw the development of the agency's budget process, including planning, development, and direction for all major initiatives.
On March 5, 2021, Director Carvajal selected Lisa Ward as Assistant Director for the Administration Division. In her new capacity as the Bureau's Chief Financial Officer, Ms. Ward will direct and oversee all critical financial and program functions in the following areas: budget development and execution, finance, procurement and property, the Inmate Trust Fund program, facilities management, and construction, including environmental review.
Ms. Ward received her Bachelor of Science degree in Finance from the University of Illinois in 1985 and her Masters of Business Administration from George Washington University in 1994. She has been a member of the Senior Executive Service since March 2008.