Patrick T. O'Connor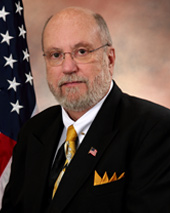 Patrick T. O'Connor serves as the Chief Executive Officer (CEO) of Federal Prison Industries. In 1973, Mr. O'Connor began his career as an apprentice welder at U.S. Steel. Throughout his more than 30-year career, he served in positions of increasing responsibility, including Director of Manufacturing, Transitions Optical; Corporate Director of Growth Enterprises, Monsanto; Vice President of Operations and Research and Development, Hoya Corporation, and Director of Business Development & Strategy, Lockheed Martin. Mr. O'Connor also served as Vice President of Business Development for ReadyOne Industries before becoming the Executive Director for The Collins Group, a global business advisory firm. On October 15, 2018, FPI announced his selection as the CEO to succeed Gary Simpson; Mr. O'Connor assumed the position effective December 10, 2018.
As Chief Executive Officer, Mr. O'Connor oversees the largest inmate training program in the Bureau of Prisons. FPI provides job skills training to approximately 10,800 federal inmates annually in 59 factories nationwide.
Mr. O'Connor received his Bachelor of Science in Industrial Supervision from Purdue University in 1977.