Gary Simpson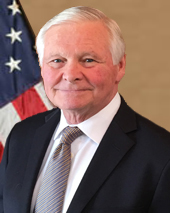 Gary Simpson serves as the Chief Executive Officer (CEO) of Federal Prison Industries. Mr. Simpson oversees the largest inmate training program in the Bureau of Prisons and one of the most important reentry programs in the Department of Justice. FPI provides job skills training to approximately 12,000 federal inmates in factories nationwide.
Mr. Simpson brings extensive leadership experience and knowledge from his career at Procter & Gamble (P&G) and as a Supply Chain Executive Consultant. He began his career as a U.S. Navy Surface Warfare Officer, serving in Vietnam, and then moved on to a 28 year career with P&G where he worked his way up to become Vice President of Product Supply in two different Divisions. In these roles at P&G, Mr. Simpson gained experience in manufacturing, engineering, purchases, logistics, marketing and global product supply. He led the sourcing study that streamlined the North American P&G manufacturing system, led the $750 million replatforming of the Global Diaper manufacturing platform, designed a company-wide cost savings program, and partnered with R&D to redesign the product launch process. He served in a collateral capacity as the Senior Executive Sponsor of P&G's Diversity Program.
Since retiring from P&G in 2003, Mr. Simpson has been a Supply Chain and Product Supply Executive Consultant for Cincinnati Consulting Consortium, Ltd. In this role he worked with clients on strategic development and implementation of product supply improvement programs.
Mr. Simpson is a graduate of the United States Naval Academy where he received a BS in Engineering. He holds an MBA from Pepperdine University.