Kathleen M. Kenney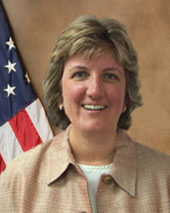 Kathleen M. Kenney is the Assistant Director/General Counsel in the Office of General Counsel. Ms. Kenney joined the Office of General Counsel (OGC) in 1992 as an Honors Attorney in the Legislative and Correctional Issues (LCI) Branch. She served as Attorney Advisor at the Federal Correctional Institution (FCI) in Talladega, AL from July 1993-1996. Ms. Kenney received the Assistant Director's Award for Exceptional Performance by an Attorney and the Director's Award (Office of Executive Office of U.S. Attorneys) for her assistance and work on prosecutions of inmates involved in the 1995 disturbance at FCI Talladega.
Ms. Kenney returned to OGC as an Assistant General Counsel in LCI in 1996. She also worked in the Labor Law Branch prior to being promoted to Associate General Counsel for LCI in September 1999. Ms. Kenney was subsequently appointed Deputy General Counsel in March 2000, and in that capacity was responsible for oversight of the Litigation Branch, Legislative and Correctional Issues Branch, Labor Law Branch, and the six Regional Counsels. She assumed her current position in June 2004.
Ms. Kenney received her Bachelor's degree in political science from the Catholic University of America in 1988 and her Juris Doctor from the University of Notre Dame in 1992.