Ken Hyle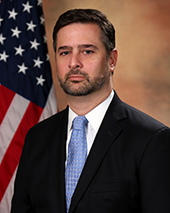 Ken Hyle is the Assistant Director of the Office of General Counsel (OGC) and the Bureau of Prisons' General Counsel. Mr. Hyle began his Bureau of Prisons career in 1994 as an Honors Attorney in the Southeast Regional Office, and in 1996, he was selected as the Attorney Advisor at MCC Chicago (IL). Mr. Hyle joined the Labor Law Branch in Central Office in 1999 as an Assistant General Counsel. Subsequently, he was selected for positions of increasing responsibility, including Attorney Advisor, Labor Management Relations Branch, Human Resource Management Division; Deputy Associate General Counsel, Labor Law Branch, OGC; and, in 2008, Deputy Assistant Director/General Counsel. On December 18, 2017, Director Inch announced he had selected Mr. Hyle as Assistant Director/General Counsel for the Office of General Counsel.
Assistant Director/General Counsel Hyle oversees a variety of legal practices, including inmate litigation, employment law, legislative and correctional issues, ethics, commercial law, real estate and environmental issues, and the Freedom of Information Act. He manages approximately 250 attorneys, paralegals and support staff who provide effective legal advice, assistance, and legal representation to officials of the Federal Bureau of Prisons.
Mr. Hyle received his undergraduate degree in Political Science from Boston University in 1991. In 1994, he received his Juris Doctor degree from George Washington University. He is the recipient of the Attorney General's Distinguished Service Award and the Attorney General's Award for Equal Employment Opportunity. Mr. Hyle has been a member of the Senior Executive Service since 2011.