Michael Carvajal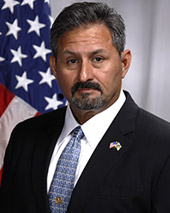 Michael Carvajal is the Regional Director of the Northeast Region. Mr. Carvajal began his Bureau of Prisons career in 1992 as a Correctional Officer at
FCI Three Rivers (TX). Subsequently, he was selected for positions of increasing responsibility including Lieutenant at FCI Three Rivers (TX); Employee Development Specialist at FCI Three Rivers (TX); Captain at FCI Texarkana (TX) and USP Leavenworth (KS); Correctional Services Administrator for the South Central Region; Associate Warden at USP and FCI Beaumont (TX); and Warden at FCI Texarkana (TX). He was selected as Complex Warden at FCC Pollock (LA), in 2012. Mr. Carvajal was selected as Regional Director for the Northeast Region on April 18, 2016, and assumed that position July 10, 2016.
Before joining the Bureau of Prisons, Mr. Carvajal served four years in the United States Army. He completed the National Institute of Corrections' Executive Excellence training program and in 2013 he received the Excellence in Prison Management Award. Mr. Carvajal has been a member of the Senior Executive Service since 2013.