Nicole C. English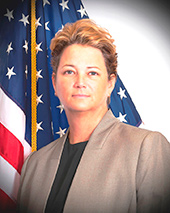 Nicole C. English is the Regional Director for the Northeast Region. Ms. English began her Bureau of Prisons career in 1991 as a Correctional Officer at FCI Sheridan (OR). She served in positions of increasing responsibility, including Case Manager at FCI Sheridan, Unit Manager at FDC SeaTac (WA), Executive Assistant at FCI Tucson (AZ), and Regional Executive Assistant for the North Central Region (KS). Ms. English also served as Associate Warden at FCI Victorville Medium II (CA) and USP Marion (IL), and Warden at FCI Waseca (MN), FCI Marianna (FL) and USP Leavenworth (KS). In June 2019, Ms. English was selected as Assistant Director of the Health Services Division, a position she held until she assumed her current position as Regional Director for the Northeast Region on August 16, 2020.
As Regional Director, Ms. English oversees the operations of 19 Bureau of Prisons facilities, including a medical center, two detention centers, and three high security penitentiaries. She is also responsible for the oversight and management of more than 5,900 employees, and the custody and care of approximately 21,000 inmates.
Before joining the Bureau of Prisons, Ms. English worked with adult offenders housed in the Idaho Department of Corrections. In 1991, she received her Bachelor of Science degree in Criminal Justice from Boise State University, and in 1996, she received her Master of Public Administration degree from Portland State University. Ms. English has been a member of the Senior Executive Service since 2013.