Michael Carvajal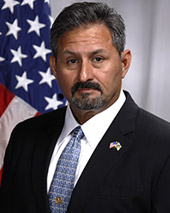 Michael Carvajal is the Regional Director of the Northeast Region. Michael D. Carvajal began his career with the Federal Bureau of Prisons as a Correctional Officer at FCI Three Rivers, Texas, in March 1992. In December 1994, he was promoted to the position of Lieutenant at FCI Three Rivers. On March 30, 1997, Mr. Carvajal accepted a reassignment to Employee Development Specialist at FCI Three Rivers and was later promoted to GS-11 Lieutenant in March 1998. In March 2000, Mr. Carvajal was selected as Captain at FCI Texarkana, Texas, where he served until June 2002 when he was selected as Captain at USP Leavenworth. Mr. Carvajal was promoted to Correctional Services Administrator for the South Central Region in Dallas, TX , in September 2005.
Subsequently, in August 2007, he was selected as Associate Warden at FCC Beaumont where he served at both the USP and FCI until January 2011. Mr. Carvajal was promoted to Warden for FCI Texarkana and served until his selection as Complex Warden at FCC Pollock in November 2012. Mr. Carvajal was appointed Northeast Regional Director in July of 2016 and has been a member of the Senior Executive Service since January, 2013.
Prior to entry into the BOP, Mr. Carvajal attended Bee County Community College for two years before enlisting in the U.S. Army, where he served from July 1988 - March 1992.
Mr. Carvajal received the Excellence in Prison Management Award in 2013.