Amy Boncher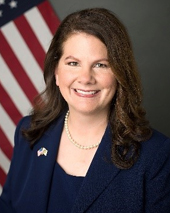 Amy Boncher is the Regional Director for the Northeast Region. Ms. Boncher began her career with the Bureau of Prisons (BOP) in 2002, as a post-doctoral psychologist at FMC Rochester (MN). She served in positions of increasing responsibility, including DAP Coordinator at FCI Waseca (MN), Chief Psychologist at FCI Waseca and FCC Petersburg (VA), Associate Warden at FCC Victorville (CA) and FCC Beaumont (TX), and Warden at FPC Bryan (TX) and FMC Devens (MA). Ms. Boncher was selected for her current position as Regional Director for the Northeast Region in April 2023, and assumed the role in June 2023.
As Regional Director, Ms. Boncher oversees the operations of 18 active BOP facilities, including a medical center, two detention centers, and three penitentiaries. She is also responsible for the oversight and management of more than 5,300 employees, and the custody and care of approximately 21,400 offenders.
Ms. Boncher began her Federal service career with the Department of Veterans Affairs in 2001. She received her Bachelor of Arts degree in Psychology from Luther College in Iowa, and her Doctorate in Clinical Psychology from the Minnesota School of Professional Psychology. Ms. Boncher has been a member of the Senior Executive Service since 2020.