Jim L. Cosby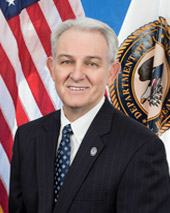 Jimmy (Jim) L. Cosby was appointed Director of the National Institute of Corrections (NIC) on February 22, 2015. Jim began his career in corrections in 1978 as a probation and parole officer for the Tennessee Board of Probation and Parole. There he held every line position within the agency and promoted through the ranks to progressively higher-ranking positions, including Regional Director. From 1999 – 2004, he served as the State Director of Probation and Parole and was responsible the overall supervision of the Division of Field Services. In 2004, Mr. Cosby was appointed Assistant Commissioner for the Tennessee Department of Correction, where he was responsible for statewide program planning, budgeting, and administration for all rehabilitative services throughout the agency.
In 2011, Mr. Cosby began working for NIC as the Division Chief for the Community Services Division. Responsible for the coordination of technical assistance, specialized training, and other programs related to probation, parole, and other forms of community-based corrections, Mr. Cosby worked to bring innovative projects to enhance correctional practice throughout the country. Some of these initiatives included: Evidence Based Decision Making, Transition from Jail to Community, LGBTI legal issues, Women Offenders and Gender-Responsive programs, Offender Workforce Development, and Veterans Treatment Courts.
Throughout his career Mr. Cosby has been recognized for outstanding service to the field of corrections, as demonstrated by a sampling of the awards below:
Harvard University, John F. Kennedy School of Government, Innovations in American Government Award for his work as co-founder of the Knoxville Safety Collaborative (1998);
Tennessee Correctional Association Professional of the Year Award (2006);
Tennessee Commissioner's Award of Excellence (2011); and
Mr. Cosby holds a Bachelor of Arts degree in Political Science from the University of Tennessee and completed the Tennessee Executive Government Institute in 1993.