Heriberto Tellez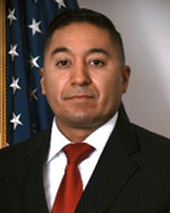 Heriberto Tellez is the Regional Director of the South Central Region.
Mr. Tellez began his career with the Bureau of Prisons in 1999 as a Correctional Officer at FCI Big Spring (TX). He served in positions of increasing responsibility, including Lieutenant at FCI Tucson (AZ), SIS Lieutenant at FCI Texarkana (TX), Deputy Captain at FCC Victorville (CA), and Captain at MDC Los Angeles (CA). In December 2014, he was selected as Associate Warden at FCI Mendota (CA) and, in 2016, he returned to FCC Victorville as Associate Warden at the FCI. In October 2017, Mr. Tellez was promoted to Warden at FPC Yankton (SD) and he went on to serve as Warden at MDC Los Angeles before being named Warden at MDC Brooklyn (NY) in August 2020. In June 2021, Mr. Tellez was selected as Regional Director for the South Central Region and assumed the position on January 2, 2022.
As Regional Director, Mr. Tellez oversees the operations of 21 Bureau of Prisons facilities, including four complexes, two with high security penitentiaries; two medical centers; a detention center and the federal transfer center. He is also responsible for the oversight and management of more than 5,400 employees, and the custody and care of approximately 26,000 inmates.
Prior to joining the Bureau of Prisons, Mr. Tellez served four years in the United States Army and began his career in corrections with the Texas Department of Criminal Justice. He also served four years in the Texas Army National Guard following his honorable discharge from the Army. Regional Director Tellez has a Bachelor of Science in Business, with a certificate in Human Resources, from the University of Phoenix. He has been a member of the Senior Executive Service since June 2019.