Juan Baltazar, Jr.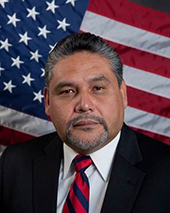 Juan Baltazar, Jr. is the Regional Director of the South Central Region. Mr. Baltazar began his career with the Bureau of Prisons in 1993 as a Correctional Officer at USP Lompoc (CA). He served in positions of increasing responsibility, including Senior Officer and Senior Officer Specialist at ADX Florence (CO), Lieutenant at FMC Carswell (TX) and FCI La Tuna (TX), and Special Investigative Agent at FCC Forrest City (AR). Mr. Baltazar also served as Senior Intelligence Designator/Specialist and Chief of the Sacramento Intelligence Unit before becoming Associate Warden at FCC Oakdale (LA). He went on to serve as Warden at FCC Allenwood (PA), FCI Otisville (NY), and USP Canaan (PA) before being selected as Complex Warden at FCC Tucson (AZ) in June 2018. In September 2018, Mr. Baltazar was selected as Regional Director for the Western Region, a position he held until he assumed his current position as Regional Director for the South Central Region on June 9, 2019.
As Regional Director, Mr. Baltazar oversees the operations of 21 Bureau of Prisons facilities, including four complexes with two high security penitentiaries. He is also responsible for the oversight and management of more than 5,400 employees, and the custody and care of approximately 29,000 inmates. Additionally, five government-owned but privately-operated correctional institutions are under his purview.
Before joining the Bureau of Prisons, Mr. Baltazar served in the United States Air Force. He has been a member of the Senior Executive Service since 2016.