John F. Caraway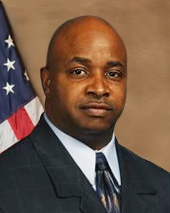 John F. Caraway is the Regional Director of the South Central Region. Mr. Caraway began his Bureau of Prisons career in 1992 as a Correctional Officer at FCI Jesup (GA). Subsequently, he was selected for positions of increasing responsibility, including Senior Officer Specialist, Human Resource Specialist Trainee, Employee Services Specialist, and Employee Services Manager before being promoted to the position of Executive Assistant at FCI Tallahassee (FL) in 2000. Mr. Caraway served as Associate Warden at FPC Duluth (MN) and USP Canaan (PA), and then in 2008, he was selected to serve as Deputy Assistant Director of the Human Resource Management Division. Mr. Caraway was selected as Warden at FCI Cumberland (MD) in June 2010, and in September 2012, he was named Complex Warden at FCC Terre Haute (IN). In November 2014, Mr. Caraway was selected as Regional Director of the Mid-Atlantic Region. Mr. Caraway assumed his current position on June 25 2017.
As Regional Director, Mr. Caraway oversees the operation of 21 Bureau of Prisons facilities with oversight and management of approximately 6,000 staff and approximately 20,500 offenders.
In 1989, Mr. Caraway received his Associate in Arts degree in Liberal Studies from Alpena Community College. In 1991, he received his Associate's Degree in Aviation Technology from the Community College of the Air Force and his Bachelor of Science degree in History from the University of New York. In 2002, Mr. Caraway received his Master of Science degree in Human Resource Management from Troy State University. Before joining the Bureau of Prisons, Mr. Caraway served five years in the United States Air Force where he was decorated for his achievements during the Gulf War. In 1996, he received the Attorney General's Award for Excellence in Administrative Support; in 2001, he received the Regional Director's Award for the Southeast Region, and in 2011, he was named New Warden of the Year. Mr. Caraway has been a member of the Senior Executive Service since 2010.