Andrew F. Turner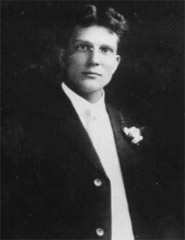 On March 26, 1916, Officer Andrew F. Turner, working the day shift, was assigned to the dining room for the noon meal. Inmate Robert Stroud, later known as "the Birdman of Alcatraz," asked permission to speak with Officer Turner. He asked Turner if he had reported Stroud's conduct, as Officer Turner had taken his name and number the previous day. Officer Turner informed Stroud that he had not reported him. Nevertheless, Stroud then stabbed Officer Turner once in the heart using a sharpened case knife in the presence of about 1,500 other inmates in the dining area. Of the attack, Stroud later wrote "...the guard took ill and died all of a sudden. He had a heart condition – puncture of the heart – there was a knife hole in it."
Officer Turner had only recently transferred to Leavenworth from Atlanta with his wife and two small children. In an uncommon gesture, inmates requested permission from the Warden to donate $400 to the family of Officer Turner; the equivalent of more than $9,000 in current dollars.
Inmate Stroud was convicted of killing Officer Turner and was sentenced to hang for the offense. President Wilson commuted his sentence to life imprisonment. Stroud died in custody on November 21, 1963, at USMCFP Springfield.
Andrew F. Turner's name is listed in the National Law Enforcement Memorial on Panel 42, W-2. He is buried at Fort Leavenworth National Cemetery Section H, grave 3356-A. Andrew, you will never be forgotten.