Gary L. Rowe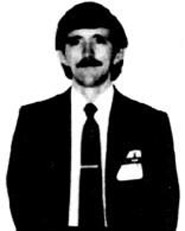 At approximately 7:15 p.m. on Saturday, February 5, 1983, the discovery of falling glass on the outside of MCC San Diego's south wall prompted a security check of all south-facing windows. Officer Gary L. Rowe and another officer were working the 8th floor and separated for no more than 3-4 minutes to inspect the two south-side quads in the unit. After the second officer completed his inspection, he went to assist Officer Rowe and found his colleague under a bed, bleeding profusely from severe head wounds. Officer Rowe had been struck with a 30" piece of angled iron and a 18" table brace. Officer Rowe died from his injuries 2 days later, on February 7.
An investigation found that Officer Rowe had come upon an escape attempt in progress and was attacked by two inmates involved in the attempt. Two inmates – Pedro Vargas Lopes and Jose Gonzales Ortega – were convicted of Murder 2, and another two – Juan Viera and Andrew Neil Restivo – were convicted of manslaughter in the death of Officer Rowe. Five additional inmates were convicted of attempted escape.
While not scheduled to work, Officer Rowe was voluntarily working overtime to assist in managing the inmate population at the crowded institution. He was survived by two children.
Gary L. Rowe is listed in the National Law Enforcement Memorial on Panel 12, E-17. Gary, you will never be forgotten.