Osvaldo Albarati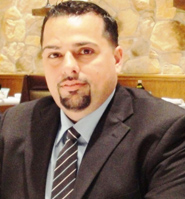 On Tuesday, February 26, 2013, after completing his shift at the Metropolitan Detention Center (MDC) Guaynabo, Puerto Rico, Supervisory Correctional Officer (Lieutenant) Osvaldo Albarati was shot and killed while he was driving on the Jose De Diego Expressway. The shooting was carried out with assistance from federal inmates housed at MDC Guaynabo. Authorities believe that Lieutenant Albarati's murder was a direct result of his work at the prison.
Lieutenant Albarati was 39 years old. Before joining the Bureau of Prisons on March 10, 2002, as a Correctional Officer, Lieutenant Albarati was a Puerto Rico police officer. Lieutenant Albarati earned MDC Guaynabo's Correctional Officer of the Year award in 2011, and in June 2012, he was promoted to Lieutenant. Lieutenant Albarati is survived by his wife, two daughters, and a son.
On January 28, 2015, inmates Oscar "Cali" Martínez-Hernández, Ángel D. "Api" Ramos-Cruz, Miguel "Bolo" Díaz-Rivera, were indicted for soliciting another person(s) and financing the plan to murder Lieutenant Albarati. Juan "El Manco" Quiñones-Meléndez, Orlando "Yogui" Mojica-Rodríguez, Jayson "Gonzo" Rodríguez-González, Carlos "Cano" Rosado-Rosado, Alexander "Coquí" Rosario de León, and Jancarlos "Jan" Velázquez-Vázquez, were also indicted for their roles in the murder.
On October 8, 2019, Oscar Martínez-Hernández was sentenced to life in prison for the murder of Lt. Albarati. The other eight individuals charged plead guilty and were previously sentenced in accordance with their respective plea agreements for their specific roles in the murder. Ramos-Cruz was sentenced to 309 months, Díaz-Rivera was sentenced to 129 months, Quiñones-Meléndez was sentenced to 285 months, Mojica-Rodríguez was sentenced to 249 months, Rodríguez-González was sentenced to 396 months, Rosado-Rosado was sentenced to 140 months, Rosario-De León was sentenced to 204 months and Velázquez-Vázquez was sentenced to 120 months.
Osvaldo Albarati is listed in the National Law Enforcement Memorial on Panel 18, E-29. Osvaldo, you will never be forgotten.