William W. Latimer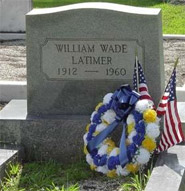 On September 11, 1960, at about 5 a.m., three juvenile inmates assaulted Officer William W. Latimer during an escape attempt from the National Training School (NTS), then a part of the Bureau of Prisons. Walter S. Brackett (14) struck Officer Latimer with a desk lamp, Joseph B. Jankowski (16) hit him with his fist, and Richard L. McCracken (17) struck him with a broom. None of the inmates escaped as their escape attempt was thwarted by other inmates and NTS staff.
Officer Latimer sustained multiple skull fractures and other injuries from the attack. He was initially transported to Providence Hospital in Washington, DC, and later transferred to Georgetown University Hospital where he remained until his death on October 15, 1960, from complications related to his injuries. The death was reported as a homicide.
At the time of the assault, all three inmates were serving sentences related to violations of the National Motor Vehicle Theft Act. In early 1961, all three pled guilty to manslaughter. Brackett and McCracken each received sentences of 5-15 years and Jankowski received 2-10 years.
Officer Latimer was a World War II veteran and a former employee of the U.S. Department of the Treasury. He had been employed with the Bureau for 8 years and was 48 years old at the time of his death.
William W. Latimer is listed in the National Law Enforcement Memorial on Panel 23, E-21. William, you will never be forgotten.