Juan D. Castillo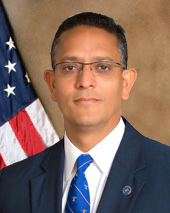 Dr. Juan D. Castillo is the Regional Director of the Western Region. He began his career with the Bureau of Prisons in June 1992 as a physician's assistant (PA) at USP Lewisburg (PA). He was promoted to Supervisory PA at FCI Estill (SC) in 1994, and was selected as Assistant Health Systems Administrator for FCI Miami (FL) the following year. In 1997, he was promoted to Health Systems Administrator (HSA) at FCI Miami. In 1997, Dr. Castillo became HSA at FCI Edgefield (SC).
In January 2000, Dr. Castillo shifted careers when he was selected to serve as Deputy Chief of the Affirmative Action Programs Branch, Human Resource Management Division (HRMD), in Central Office. He later also served as Executive Assistant in HRMD. He was selected as Associate Warden (AW) for FMC Fort Worth (TX) in 2002; and from October 2004 to May 2006, he played an important part as AW in the activation of the Federal Correctional Complex at Terre Haute, IN. Dr. Castillo subsequently returned to HRMD in Central Office as Deputy Assistant Director. He served as Warden at FCI Memphis (TN) from January 2008 to July 2011, at which time he became Warden for MCFP Springfield (MO). Dr. Castillo was promoted to Regional Director for the BOPís Western Region on April 13, 2012, and he assumed the position on July 29, 2012.
Dr. Castillo received his Doctorate degree in Medicine from Universidad Central Del Este (East Central University) in Santo Domingo, Dominican Republic. He has received many awards during his career, including Physicianís Assistant of the Year, Supervisor of the Quarter, and South Central Region Associate Warden of the Year, as well as numerous institution special achievement and performance-based awards. He joined the ranks of the Senior Executive Service in May 2008.