Paul M. Laird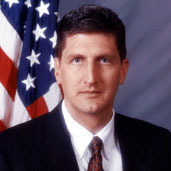 Paul M. Laird is the Regional Director of the North Central Region. Mr. Laird began his career with the Federal Bureau of Prisons as a correctional officer at the Federal Correctional Institution (FCI), Phoenix (AZ) in 1988. Since then, he has served in various positions of increasing responsibility: Unit Manager at the Metropolitan Detention Center (MDC) Los Angeles (CA); Executive Assistant at FCI Dublin (CA); Associate Warden at FCI Tucson (AZ) and later at the U.S. Penitentiary (USP) Florence (CO). From there, he was named Warden at the Federal Correctional Complex (FCC) Coleman (FL).
In February 2004, Mr. Laird was appointed Senior Deputy Assistant Director, Correctional Programs Division, and in May 2005, he was appointed Warden of MDC Brooklyn (NY). He became a member of the Senior Executive Service in July 2005. On April 1, 2007, Mr. Laird became Assistant Director for the Industries, Education, and Vocational Training Division; in this capacity he served as Chief Operating Officer of Federal Prison Industries (FPI) in addition to overseeing education, vocational, and occupational training programs for federal inmates. He was selected as Regional Director for the North Central Region on January 31, 2012.
Mr. Laird received a Bachelor of Arts degree in Political Science and Criminal Justice from Gustavus Adolphus College in St. Peter, Minnesota, in 1988. He received a Certificate in Public Administration from the University of Southern California in 2002. Mr. Laird was the recipient of a Bureau of Prisons National Wardens' Award for Cost Containment Efforts in 2003, and the Attorney General's Award for Excellence in Information Technology in 2005. He received a Certificate for Senior Managers in Government from the John F. Kennedy School of Government at Harvard University in August 2006.