William F. Dalius, Jr.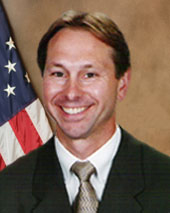 William F. Dalius, Jr. serves as Assistant Director (AD) for the Administration Division and as the Bureau's Chief Financial Officer. In his position, he carries out a broad range of responsibilities in the following financial areas: budget development and execution, finance, procurement and property, and the inmate trust fund program. He also oversees the facilities program, which includes the siting, design, and construction of new correctional facilities, as well as the renovation and maintenance of existing institutions.
Mr. Dalius began his career with the Federal Bureau of Prisons as an Accounting Supervisor at FCI Bastrop, TX in 1985. Over the course of his 30-year career with the Bureau, he has served in various positions of increasing responsibility: Budget and Accounting Officer at FCI Bastrop; Operating Accountant, Financial Manager, Deputy Chief of Financial Systems, Supervisory Budget Analyst, Systems Accountant, Assistant Chief, Deputy Chief and Chief of Budget Execution in Central Office, Washington, DC.
From Central Office, he was named Associate Warden at FCI Fort Dix, NJ in August 1998; Warden of the FCI (Low) Butner NC in January 2002; and Warden of the FCI (Medium) in Butner in December 2003. In February 2005, he was appointed as Senior Deputy AD for Administration with responsibility for the budget execution, finance, procurement, and trust fund areas; and served in that capacity until assuming his current position on January 4, 2008. He has been a member of the Senior Executive Service since April 2005.
Mr. Dalius, a native of Pennsylvania, received a Bachelor of Science degree in Business Administration from Bloomsburg University in Bloomsburg, PA in 1980. He completed the Seminar for Executives and the Seminar on Justice and Society at the Aspen Institute in Colorado, the National Institute of Corrections' Executive Excellence program, and Phase III of the Bureau's LEAD program. Mr. Dalius was the Northeast Region's Associate Warden of the Year in 1999.