Robert M. Brown, Jr.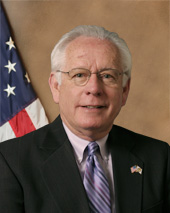 Robert M. Brown, Jr. (Bob) is the Acting Director of the National Institute of Corrections (NIC). Bob began his career with the Bureau of Prisons on September 1996, serving as a Correctional Program Specialist with the National Institute of Corrections for two years before beginning his fourteen years of service as Chief of the Academy from February 1998 to November 2012. In November of 2012, Mr. Brown was named Deputy Director of NIC and is currently serving as Acting Director. Prior to joining the NIC and the Academy he served in a variety of administrative capacities during a twenty-eight-year career at the University of Southern California (USC).
During the last ten years of which he served as an Assistant Athletic Director, Director of Development for the School of Business Administration and Director of Development for the Institute of Safety and Systems Management. During his first eighteen years at USC, he was the Executive Director of the Center for Training and Development, Public Sector Programs, Programs in Corrections, the Correctional Administration Institute, Educational Programs in Corrections and the Judicial Administration Institute. In these capacities, he served as the administrative director and training coordinator for a variety of correctional and other public sector programs throughout the United States. Under Mr. Brown's leadership the programs provided executive, middle management, supervisory, team building, strategic planning and other training courses for correctional managers for the following states and agencies; California, Colorado, Idaho, Michigan, Mississippi, New Mexico, North Carolina, Oklahoma, Texas, Wisconsin, the U.S. Federal Courts, the Office of Juvenile Justice and Delinquency Prevention, the Federal Bureau of Prisons and the National Institute of Corrections. He was responsible for directing the curriculum design, instructor coordination, technical assistance supervision and evaluation.
Mr. Brown earned his Bachelor of Science degree in Criminology in 1968 from California State University, Long Beach. He holds a Master's degree in Public Administration, 1970 from the University of Southern California and has completed additional graduate course work toward his doctorate. Throughout his career, he has been an instructor or guest lecturer on various subjects in leadership, management, organization behavior, strategic planning, criminal justice, law enforcement, court management and corrections.