Frank Strada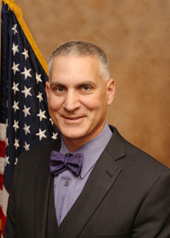 Frank Strada is the Assistant Director of the Correctional Programs Division. Assistant Director Frank Strada began his career with the Bureau of Prisons in 1988 as a Correctional Office at the Federal Correctional Institution (FCI) Otisville (NY). He served in various positions of increasing responsibility at FCI Schuylkill (PA) and FCI Phoenix (AZ) as Lieutenant. In 1997, he was selected as Captain at FCI Big Spring (TX) and then in 1999 at the Federal Detention Center Philadelphia (PA) where he was part of the activation team. In 2001, Mr. Strada was selected as the Assistant Correctional Services Administrator, Central Office.
In 2003, Mr. Strada was selected as Associate Warden at FCI Milan (MI) and then at the United States Penitentiary Lewisburg (PA) in 2005. Assistant Director Strada was named as the Correctional Services Administrator for the Bureau in 2009 until he was promoted to Warden in 2011 at the Federal Correctional Complex Allenwood (PA). In July 2012, he was selected as Warden at the Metropolitan Detention Center Brooklyn (NY). Mr. Strada assumed his position of Assistant Director, Correctional Programs Division on November 3, 2013.
Mr. Strada is a native of Jessup, PA, and a veteran of the armed forces serving in the United States Air Force. He joined the ranks of the Senior Executive Service in November 2012, and in 2013, he received the Bureauís prestigious Excellence in Prison Management Award.