RADM Newton E. Kendig, M.D.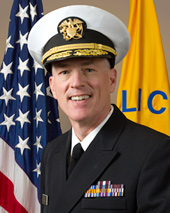 Rear Admiral (RADM) Newton E. Kendig is a 1984 graduate of Jefferson Medical College, Philadelphia, Pennsylvania. In 1987 he completed an internal medicine residency at the University of Rochester, Strong Memorial Hospital. Prior to the Federal Bureau of Prisons (Bureau), Dr. Kendig served as Medical Director for the Maryland Department of Corrections and Public Safety for five years.
Dr. Kendig has served as the Assistant Director for the Health Services Division and Medical Director for the Bureau since 2006. As a member of the Bureauís Executive Staff, RADM Kendig oversees delivery of medical care, food services and occupational safety for the Nationís largest correctional system. Dr. Kendig is a board-certified physician in internal medicine and infectious diseases and provides clinical leadership for over 800 Commissioned Officers and approximately 2,700 civil servant health care providers. He also cares for patients at Johns Hopkins University Hospital where he has served as part-time faculty in infectious diseases since 1991. In 2012, RADM Kendig served as the Commanding Officer for the Department of Health and Human Services mission to the Commonwealth of Northern Mariana Islands to provide critical technical assistance to the only hospital on the island of Saipan. In 2014, RADM Kendig served as the Commanding Officer for Team Two of the USPHS Commissioned Corps Ebola Response in Monrovia, Liberia.