Program Details
UNICOR is a life-changing correctional program that has a profound impact on everyone in the community.
Overview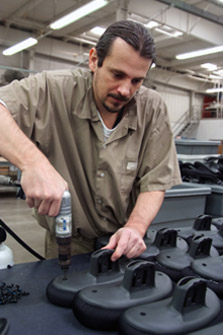 Inmate Facts
24%
Less likely to recidivate after leaving prison
14%
More likely to find and maintain employment
8%
Participation rate - 25,000 inmates on the waiting list
23˘ to $1.15
Typical Hourly Pay
UNICOR is the trade name for Federal Prison Industries (FPI), a wholly owned Government corporation that was established by Congress on June 23, 1934. Its mission is to protect society and reduce crime by preparing inmates for successful reentry through job training. UNICOR is entirely self-sustaining, receiving no appropriated funds from Congress and operating at no cost to taxpayers.
UNICOR is first and foremost a correctional program. The impetus behind FPI is not about business, but rather inmate release preparation. UNICOR assists offenders with acquiring marketable job skills so that they can one day become law-abiding, contributing members of society. The production of items and provision of services are merely by-products of those efforts.
The Post-Release Employment Project (PREP) compared inmates who worked in prison industries with similar inmates who did not participate in the FPI program. PREP found that inmates who worked in FPI were significantly less likely to recidivate than inmates who did not participate. Inmates who participated were 24% less likely to revert to criminal behavior as much as 12 years following release and and 14% more likely to be gainfully employed following release from prison. Minority groups benefited the most when compared to their non-minority counterparts. Inmates who participated in FPI were also less likely to engage in prison misconduct while still incarcerated.
Although there are approximately 25,000 inmates who are waiting to work in UNICOR, only 8% of work-eligible inmates participate in the program where they typically earn between 23˘ to $1.15 per hour. A high school diploma or General Educational Development (GED) certificate is required for all work assignments above entry level (lowest pay level).
Program Benefits
UNICOR is a program that benefits everyone.
Society
UNICOR programs help reduce recidivism, reduces the amount of government spending, and compensates society. The Inmate Financial Responsibility Program (IFRP) ensures that inmates who have financial obligations contribute 50% of their earnings. That money is used to pay for court-ordered fines, victim restitution, child support, incarceration fees, and other monetary judgments. In FY 2017 that amount equated to more than $941,000 dollars.
Private Sector
During FY 2013, 73% of UNICOR expenditures went toward the purchase of raw materials, supplies, equipment, and services from private sector businesses. More than 50% of UNICOR's purchases were from small or disadvantaged businesses.
Bureau of Prisons
UNICOR contributes significantly to the safety and security of Federal correctional facilities by keeping inmates constructively occupied. Inmates who participate in work programs and vocational training are less likely to engage in institutional misconduct, thereby enhancing the safety of staff and other inmates.

For many inmates, working in UNICOR represents an opportunity to learn a marketable skill and gain valuable work experience that will substantially enhance their ability to successfully reintegrate into society following release from prison. The program teaches inmates pro-social values including the value of work, responsibility, and the need to respect and work with others.
Specific Skills Taught
Equipment Maintenance
Carpentry
Forklift Operations
Customer Service
Basic Accounting
View All Skills
In their own words ...
Listen to an ex-offender explain how the UNICOR program has changed his life.
Watch the video
Specific Skills Taught
Clothing & Textiles
Sewing
Cutting Fabric
Reading Specifications
Reading Contracts
Basic Garment Construction
Industrial Products
Welding
Eyeglass Grinding
Metal Finishing
Cabinetry
Painting
Punch Press Operation
Tool & Die Fabrication
Office Furniture
Carpentry
Woodworking
Milling
Wood Finishing
Upholstery
Electronics
Soldering
Electronic Testing
Wire Stripping
Tinning
Rubber Molding
Recycled Electronics Products
Sorting
Computer Identification
Hazardous Material Recognition
Technical Computer Skills
Computer Component Identification
Services
Customer Service
Data Entry
Laundry
Packaging
Printing Equipment Operation
Screen Printing
Sorting
Word Processing
Fleet Management
Engine Repair
Forklift Repair
Vehicle Component Repair
Other work-related skills
Clerical (typing/filing)
Basic Accounting
Quality Control Inspection & Testing
Forklift Operation
Building & Equipment Maintenance & Repair
Computer-Aided Drafting
Test Lab Functions
Warehouse Operations
Veterans
Currently, approximately 7% of the inmates employed by UNICOR are veterans. This employment is critical, as more than 200,000 veterans are incarcerated in the nation's prisons and jails.
Costs
UNICOR is self-sustaining and operates at no cost to the taxpayer.
100% of revenues are eventually returned to the community.
Approximately $0.78 of each $1.00 in sales revenue is spent buying raw materials, supplies, services, and equipment from the private sector. More than half of all purchases were from small or disadvantaged businesses.

Approximately $0.18 of each $1.00 in sales revenue is used to cover the program's operational expenses including the salaries and benefits of the civil service staff who train and supervise inmate workers.

Inmates receive approximately $0.04 of each $1.00 in sales revenue, primarily used to repay important financial obligations.
In FY 2017, UNICOR had $483.8 million in net sales.
Products & Services
UNICOR is required by statute to diversify its product offerings as much as possible, minimizing the program's impact on any one industry. Currently UNICOR produces over 80 products and services including:
Textile Services
Capabilities include:
Cutting, Sewing & Weaving
Embroidery & Silk Screening
Upholstery
Electronic Products & Services
Capabilities include:
Kitting
Potting
Soldering
Lighting
Power Distribution
Assemblies
Communications
Metal Products & Services
Capabilities include:
Fabrication
Tool & Die
Welding
Machining
Coating and Finishing
Services
Capabilities include:
Printing & Bindery
Pre-press
Warehousing & Distribution
CAD Design
Data Entry & Media Conversion
Contact Centers & Help Desks
Forward & Reverse Logistics
Vehicle Repair/Remanufacturing Services
Capabilities include:
Rebuilding, Retrofitting & Refurbishing
Fleet Life Cycle Maintenance & Scheduling
Wire/Plastic Products & Services
Capabilities include:
Braiding
Assembly
Injection Molding
Extrusion Molding
Wood Products & Services
Capabilities include:
Millwork
Sub-assembly
Finishing
Energy Conservation
Capabilities include:
Solar Applications
Electronics Recycling
E-waste Management (Federal, State, Municipal Partnerships & Co-ops
Customers
With a few limited exceptions, FPI is restricted to selling its products to the Federal Government.
FPI's derives over 50% of its sales from the Department of Defense.
Other key customers include:
Department of Agriculture
Department of Homeland Security
Department of Justice
Department of Transportation
Department of Treasury
Department of Veterans Affairs
Federal Bureau of Prisons
General Services Administration
Social Security Administration
United States Postal Service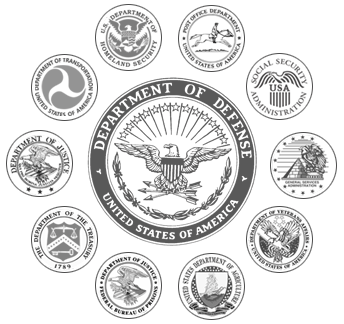 The Consolidated and Further Continuing Appropriations Act of 2012 opened doors for greater private sector collaboration. UNICOR received legislative authority to work with private sector companies to manufacture and sell products in the commercial market, provided certain eligibility requirements are met. Repatriation authority was granted to participate in pilot projects (with prior Board approval) in the commercial sector, so long as the products are currently, or would otherwise be, produced and/or assembled outside the United States. Authority to participate in the Prison Industry Enhancement Certification Program (PIECP) was also granted by Congress. These new authorities are expected to enhance UNICOR's value within the commercial marketplace and lead to additional inmate job opportunities in support of UNICOR's mission.
Factory Locations
UNICOR's network of nationwide locations (co-located to BOP facilities) helps to streamline operational costs and savings.