September 11, 2017 UPDATE: (BOP) - In response to Hurricane Harvey, the government's Emergency Support Function (ESF #13) was activated. The Federal Bureau of Prisons supports ESF #13 by providing staff and resources to assist with public safety and security.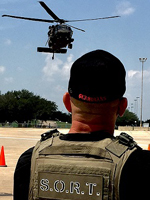 The Bureau deployed more than 160 staff members to Texas as part of this effort. This deployment included a 25-person Quick Reaction Team (QRT) from each of the Bureau's regions, two Mobile Command Vehicles (NCRO and SERO) and Mobile Bunk Houses from FMC Fort Worth, FCI Gilmer, and USMCFP Springfield.
All Bureau personnel were deputized as Deputy U.S. Marshals and five of the six QRTs were also commissioned as Texas state/local law enforcement officers. They provided security to multiple law enforcement agencies and thousands of families affected by the storm; supported the Secret Service for the President's visit; assisted with arrests and secured crime scenes; and responded to medical emergencies. The Bureau is proud of the efforts of these QRTs and all staff who assisted and continue to work through these severe weather events.
September 5, 2017 UPDATE: (BOP) - All staff at FCC Beaumont have been accounted for. Approximately 80 staff members from institutions within the Bureau's South Central Region, including more than 20 Crisis Support Team members, have been deployed to assist and provide relief to FDC Houston and FCC Beaumont. FCC Beaumont is receiving deliveries and there is ample bottled water and food supplies for inmates and staff. The facility continues to provide 24-hour medical coverage for all inmates.
Additionally, more than 150 staff from across the Bureau's 6 regions have been deployed to assist FEMA with the Emergency Support Function and outreach to the impacted areas.
September 1, 2017 UPDATE: (BOP) - Power has been restored to FCC Beaumont, and generator power is no longer being used. The Inmate Telephone System (ITS) is currently operational. The FCC continues to use its own reserve of water to operate the Complex. There is ample food and bottled water for inmates and staff.
August 31, 2017 UPDATE: (BOP) - The Federal Correctional Complex (FCC) in Beaumont, Texas, has not been evacuated. There was some flooding in and around areas of the FCC where inmates are not being housed, however, today the water has begun to recede. All inmates remain safe in their housing units.
Although the storm impacted the city water supply, the FCC is utilizing its own reserved water supply. The FCC has experienced intermittent power, however, it is adequately maintained with generator backup power when needed. There is an adequate food and water supply for both inmates and staff.
August 30, 2017 UPDATE: (BOP) - In the wake of Hurricane Harvey, Bureau facilities in the South Central Region remain operational. Due to extensive flooding outside FDC Houston, seventeen staff members were unable to leave the facility since Friday. Early this morning, staff from the South Central Region and Military Support staff, using special equipment and all-terrain vehicles, successfully delivered food, water and health/comfort supplies to FDC Houston. Staff volunteers from FMC Carswell, FMC Fort Worth, and FCI Seagoville and the United States Army Reserve assisted in this joint mission. Staff continue to demonstrate their dedication to duty by managing continuing operations with limited resources.
FCC Beaumont is experiencing intermittent telephone communication problems. Staff at Beaumont have activated a family support center at the training building. FCI Bastrop is functioning under standard operating procedures.
Several RRCs in the area have also been affected by the storm. Efforts are underway to bring in food and supplies as needed and in some cases, inmate residents have been moved to nearby facilities.
The Bureau is working with the Federal Emergency Management Agency (FEMA) to assist with public safety and security. The North Central Region and Southeast Region each mobilized 25 Special Operations Response Team (SORT) staff and activated mobile command units. The Western and Northeast regions have also deployed 25 member SORT teams. The Mid-Atlantic region will deploy their SORT team later this week. In addition, the Bureau deployed 29 U.S. Public Health Services (USPHS) Commissioned Corps. The USPHS officers will staff 2 Field Medical Stations (FMS) that provide a full range of medical care. The South Central Region has initiated a coordinated response to the impacted institutions. Command centers at the affected institutions have been activated and contingency plans have been implemented.
The aftermath of Hurricane Harvey is not fully realized. Additional staff and supplies are being mobilized for support. Some Bureau staff have experienced a loss of personal property as a result of the ongoing storm and flooding, and thus all staff, residents and those assisting are in our thoughts during this difficult time.
The Central Office and the South Central Regional Office continue to closely monitor and assess the situation.