Mary M. Mitchell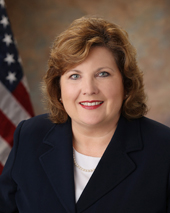 Mary M. Mitchell is the Assistant Director of the Industries, Education, & Vocational Training (IE&VT) Division. She has served as the Acting Assistant Director for the Correctional Programs Division(CPD) and the Senior Deputy Assistant Director for CPD with responsibility for overseeing correctional services, emergency planning, witness security and victim witness operations, intelligence gathering and sharing, counter-terrorism initiatives, gang management, unit and case management, designations and sentence computations, female offender programs, delivery of mental health services, and sex offender certification reviews.
Ms. Mitchell began her BOP career in November 1989 as an administrative secretary at the Federal Prison Camp (FPC) Pensacola (FL). Ms. Mitchell subsequently served in positions of increasing responsibility, including unit secretary, Associate Wardenís secretary, and accounting technician at Federal Correctional Institution (FCI) Terminal Island (CA); accounting technician at FPC Eglin (FL); budget analyst at FCI Pekin (IL); Budget and Accounting Officer at the Federal Detention Center (FDC) Miami (FL); Financial Manager at FCI Talladega (AL) and U.S. Penitentiary (USP) Pollock (LA); and Executive Assistant at USP Atlanta (GA). She was promoted to Executive Assistant for the Southeast Regional Office in March 2004, and later became Associate Warden for FCI Talladega. In April 2007, Ms. Mitchell was selected as Warden over the medium security FCI and the satellite camp at Federal Correctional Complex (FCC) Coleman (FL); in October 2007, she assumed additional responsibility as Warden for the FCCís low security facility. In January 2009, she was appointed to the Senior Executive Service and selected as Warden for FCI Edgefield (SC).
In 2005, Ms. Mitchell received the U.S. Attorney Generalís Award for Executives in Management, and in 2007, Ms. Mitchell was selected New Warden of the Year. On
January 31, 2012, Ms. Mitchell was selected as Assistant Director for IEVT. In this position she also serves as FPIís Chief Operating Officer, with responsibility for education, vocational, and occupational training programs for Federal inmates nationwide.